En 50 años de hacer predicciones sobre el cambio climático a partir de una variedad de personas supuestamente bien informados ni uno solo ha hecho realidad – siempre. La pregunta que hay que preguntarse por qué es?
Nolte: Climático son 'expertos' 0-41 con sus predicciones del fin del mundo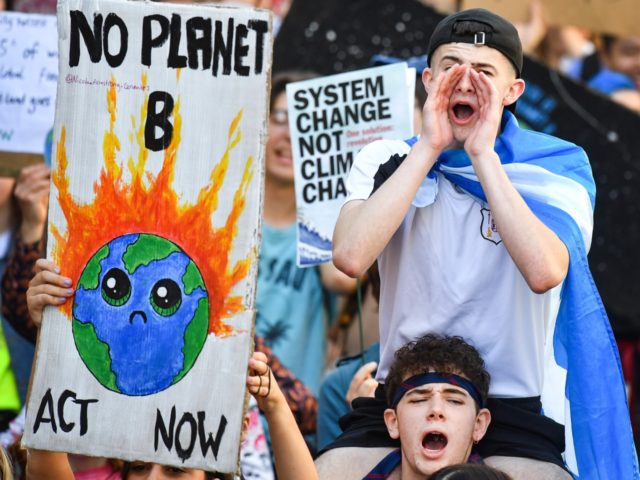 Por más de 50 años alarmistas del clima en la comunidad científica y el movimiento ambiental no han conseguido incluso una predicción correcta, pero tienen un registro perfecto de conseguir 41 predicciones erróneas.
En otras palabras, en por lo menos 41 ocasiones, estos llamados expertos han predicho una catástrofe medioambiental terribles era inminente ... y nunca ocurrió.
Y no una vez - ni una sola vez! - han tenido estos alarmistas una de sus predicciones se hacen realidad.
Piense en que ... los llamados expertos están 0-41 con sus predicciones, pero aquellos de nosotros que son escépticos del número predicción "experto" 42, el que dice que si no nos convertimos de inmediato al socialismo y permitimos Alejandría Ocasio-loco para controlar y organizar nuestras vidas, el planeta se convertirá en inhabitables.
¿Por qué cualquier persona en su sano escuchar a alguien con una 0-41 grabar?
¿Por qué deberíamos reestructurar por completo nuestra economía y sacrificar nuestra libertad personal para los "expertos" que están 0-41, una vez que nunca han hecho bien?
Si usted tenía un asesor de inversiones que llevó a que mal 41times, le colgar en él durante varios 42?
Por supuesto no. Le despediría después de la predicción fallado dos o tres.
Y si eso no es lo suficientemente loco, la última estratagema es sacar a relucir una niña de 16 años de edad, para extender el número de predicción 42, because it is tanto más creíble de esa manera.
A veces sólo tiene que sentarse y reír.
De todas formas, Quiero que tiene los datos, así que adelante y imprimir esto antes de la cena de Acción de Gracias con su sobrino Milenio desagradable.
LISTA DE predicciones apocalípticas CLIMA alarmistas fue directo
NINGUNA.
CÓDIGO POSTAL.
CERO.
NADA.
BLANCO
AGUJERO DE LA DONA
NULO.
NADA.
VACÍO.
NADA.
LISTA DE predicciones apocalípticas mal CLIMA alarmistas GOT
Here is la fuente for numbers 1-27. Como verás, las fuentes individuales no son chiflados, Pero los estudios científicos y los medios de comunicación informes sobre las predicciones de "expertos". Las fuentes de los números 28-41 están vinculados de forma individual.
1967: El hambre extrema Pronóstico Por 1975
1969:

Everyone Will Disappear In a Cloud Of Blue Steam By

1989 (1969)
1970:

Ice Age By

2000
1970:

America Subject to Water Rationing By

1974

and Food Rationing By

1980
1971:

New Ice Age Coming By

2020 o 2030
1972:

New Ice Age By

2070
1974:

Space Satellites Show New Ice Age Coming Fast

1974:

Another Ice Age

?
1974:

Ozone Depletion a 'Great Peril to Life

1976:

Scientific Consensus Planet Cooling

,

Famines imminent

1980:

Acid Rain Kills Life In Lakes

1978:

No End in Sight to 30-Year Cooling Trend

1988:

Regional Droughts

(

that never happened

)

in 1990s

1988:

Temperatures in DC Will Hit Record Highs

1988:

Maldive Islands will Be Underwater by

2018 (

they're not

)
1989: El aumento del nivel del mar lo destruya las Naciones si no se hace nada por 2000
1989: West Side carretera bajo el agua de la ciudad de Nueva York 2019 (no es)
2000: Los niños no sabrán qué la nieve es
2002: En el hambre 10 Años si no lo hacemos dejar de comer pescado, Carne, y los productos lácteos
2004: Gran Bretaña será Siberia 2024
2008: Ártico libre de hielo por 2018
2008: Genius climático de Al Gore predice hielo ártico gratuito por 2013
2009: Genius climático príncipe Carlos dice que tenemos 96 Meses para salvar el mundo
2009: El primer ministro del Reino Unido dice 50 Días a 'salvar el planeta de catástrofe'
2009: Genius climático Mueve Al Gore 2013 Predicción del hielo ártico-Libre de 2014
2013: Arctic Ice-libre por 2015
2014: Solamente 500 Días antes 'Climate Chaos'
1968: La superpoblación se extenderá por todo el mundo
1970: Mundial utilizará encima de todos sus recursos naturales
1966: Aceite ido en diez años
1972: Aceite empobrecido en 20 Años
1977: Departamento de Energía dice petróleo llegará a su máximo en los años 90
1980: En el pico del petróleo 2000
1996: El pico del petróleo en 2020
2002: El pico del petróleo en 2010
2006: súper huracanes!
2005 : Manhattan bajo el agua por 2015
1970: Los ciudadanos urbanos requerirá máscaras de gas por 1985
1970: la acumulación de nitrógeno hará que todas las Tierras inutilizable
1970: Contaminación en descomposición matará a todos los peces
1970s: Abejas asesinas!
Lo siento, Lo sentimos expertos ..., Consenso Científico ... Sólo un tonto viene corriendo por el grito 42 de lobo.
No tire basura, be kind to animals, recycling's for suckers (it's all going to end up in the ground eventually), so stop feeling guilty… Go out there and embrace all the bounty that comes with being a 21st century American — you know, like Obama, who says he believes in Global Warming with his mouth but proves he doesn't with the $15 million he just spent on oceanfront that we're told is doomed to flooding.
Fuente: https://www.breitbart.com/environment/2019/09/20/nolte-climate-experts-are-0-41-with-their-doomsday-predictions/
Wrong Again

: 50

Years of Failed Eco-pocalyptic Predictions
Thanks go to Tony Heller, who first collected many of these news clips and posted them on RealClimateScience.
SUMMARY
Modern doomsayers have been predicting climate and environmental disaster since the 1960s. They continue to do so today.
None of the apocalyptic predictions with due dates as of today have come true.
What follows is a collection of notably wild predictions from notable people in government and science.
More than merely spotlighting the failed predictions, this collection shows that the makers of failed apocalyptic predictions often are individuals holding respected positions in government and science.
While such predictions have been and continue to be enthusiastically reported by a media eager for sensational headlines, the failures are typically not revisited.
1967: 'Dire famine by 1975.'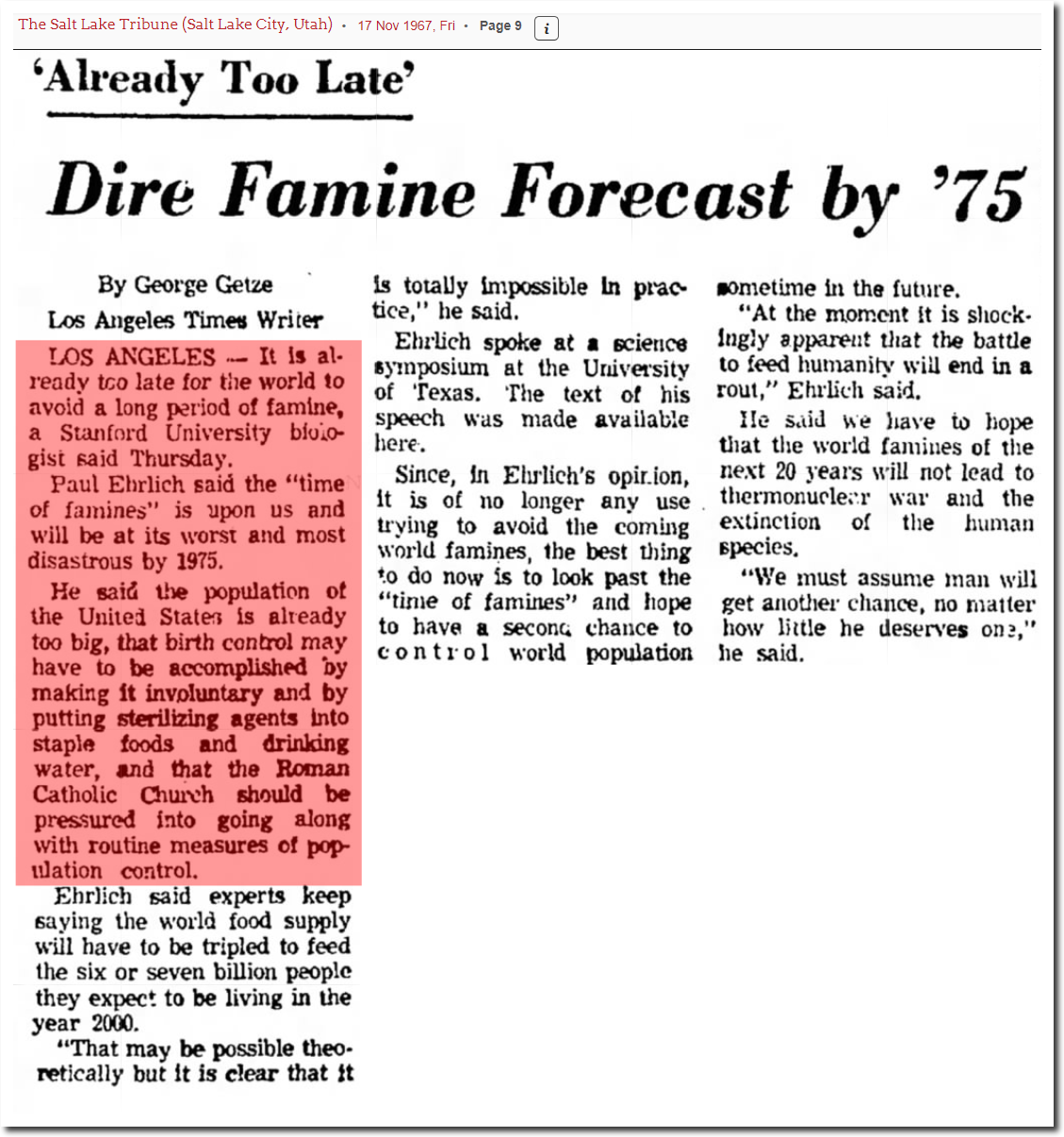 Fuente: Salt Lake Tribune, November 17, 1967
1969: 'Everyone will disappear in a cloud of blue steam by 1989.'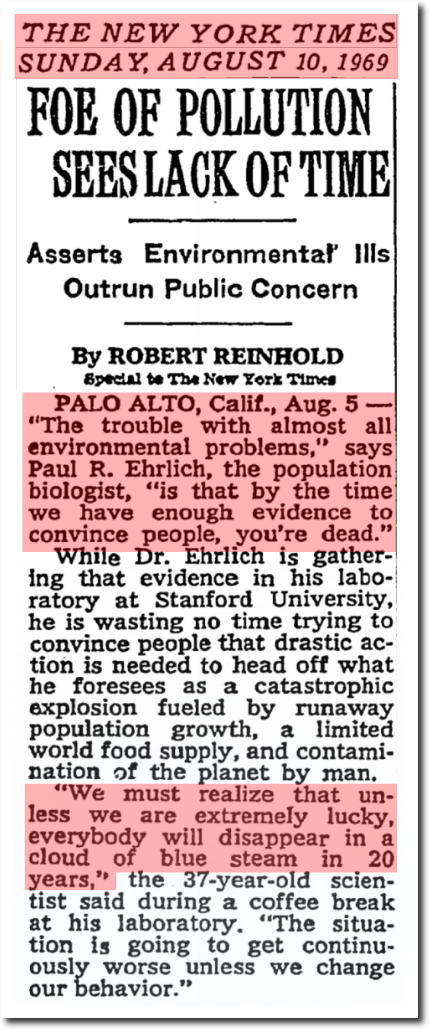 Fuente: New York Times, agosto 10 1969
1970: Ice age by 2000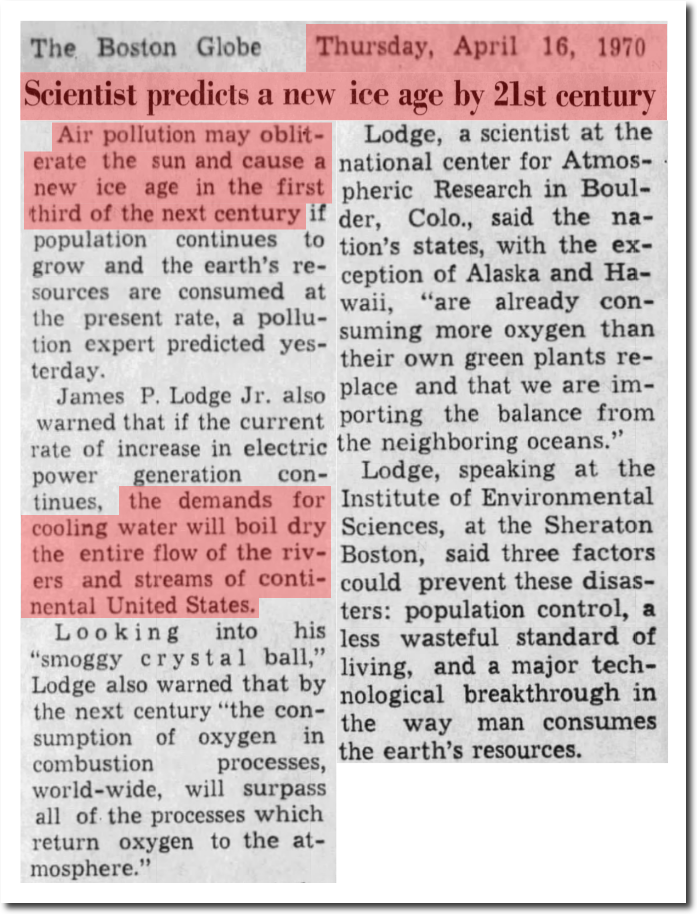 Fuente: Boston Globe, April 16, 1970
1970: 'America subject to water rationing by 1974 y el racionamiento de alimentos para 1980.'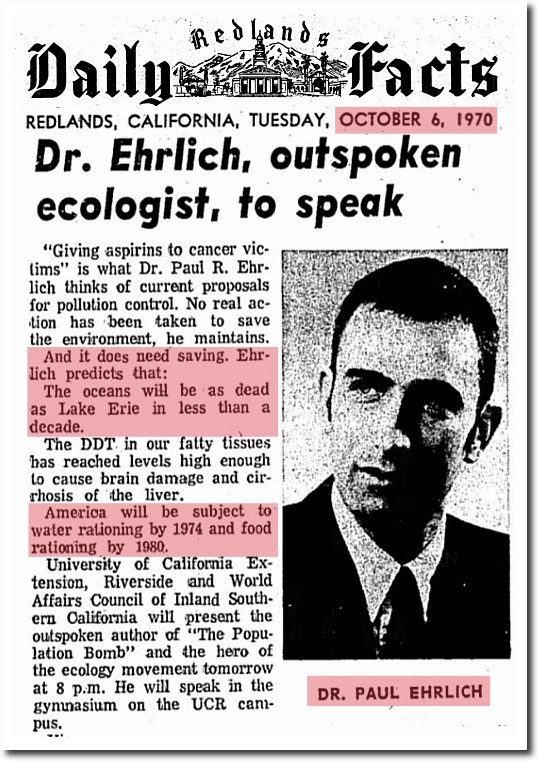 Fuente: Datos de Redlands Daily, octubre 6, 1970
1971: 'Nueva Era de Hielo Coming'
Fuente: El Correo de Washington, julio 9, 1971
1972: Nueva edad de hielo por 2070
Fuente: NOAA, octubre 2015
1974: 'Nueva Era de Hielo se aproxima rápidamente'
Fuente: El guardián, enero 29, 1974
1974: 'Otro Edad de Hielo?'
Fuente: HORA, junio 24, 1974
1974: Agotamiento del Ozono una 'gran peligro para la vida'
Pero no hay tal 'gran peligro para la vida' se ha observado como los restos del llamado 'agujero de ozono':
Fuente: New York Times Book Review, julio 18, 1976
1980: 'Lluvia ácida mata la vida en Lakes'
noblesville Ledger (noblesville, EN) April 9, 1980
Pero 10 años después, el programa de gobierno de Estados Unidos formada para estudiar la lluvia ácida concluyó:
Associated Press, septiembre 6, 1990
1978: 'No End in Sight' to 30-Year Cooling Trend
Fuente: New York Times, enero 5, 1978
But according to NASA satellite data there is a slight warming trend since 1979.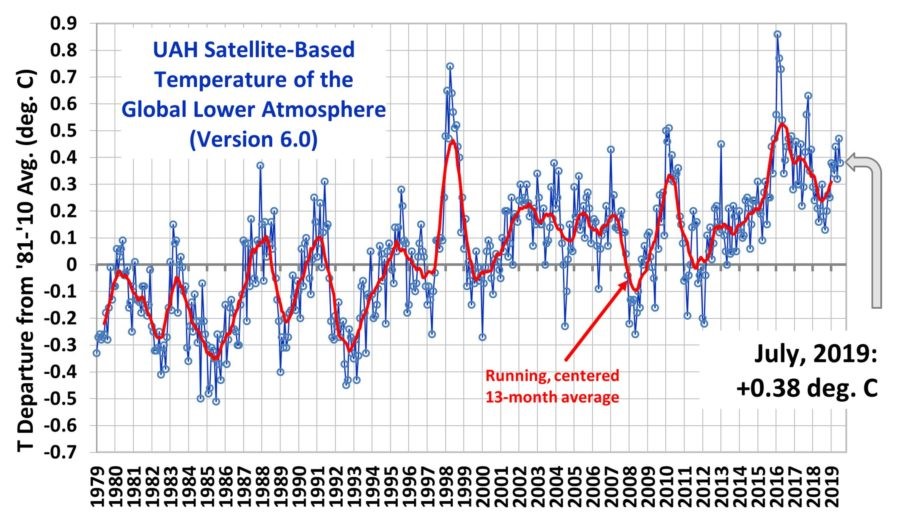 Fuente: DrRoySpencer.com
1988: James Hansen forecasts increase regional drought in 1990s
But the last really dry year in the Midwest was 1988, and recent years have been record wet.
Fuente: RealClimateScience.com
1988: Washington DC days over 90F to from 35 a 85
But the number of hot days in the DC area peaked in 1911, and have been declining ever since.
Fuente: RealClimateScience.com
1988: Maldives completely under water in 30 años

Fuente: Agence France Press, septiembre 26, 1988
1989: Rising seas to 'obliterate' nations by 2000
Fuente: Associated Press, junio 30, 1989
1989: New York City's West Side Highway underwater by 2019
Fuente: Salon.com, octubre 23, 2001
1995 to Present: Climate Model Failure
Fuente: CEI.org
2000: 'Children won't know what snow is.'
Fuente: The Independent, March 20, 2000
2002: Famine in 10 años
Fuente: El guardián, December 23, 2002
2004: Britain to have Siberian climate by 2020
Fuente: El guardián, February 21, 2004
2008: Arctic will be ice-free by 2018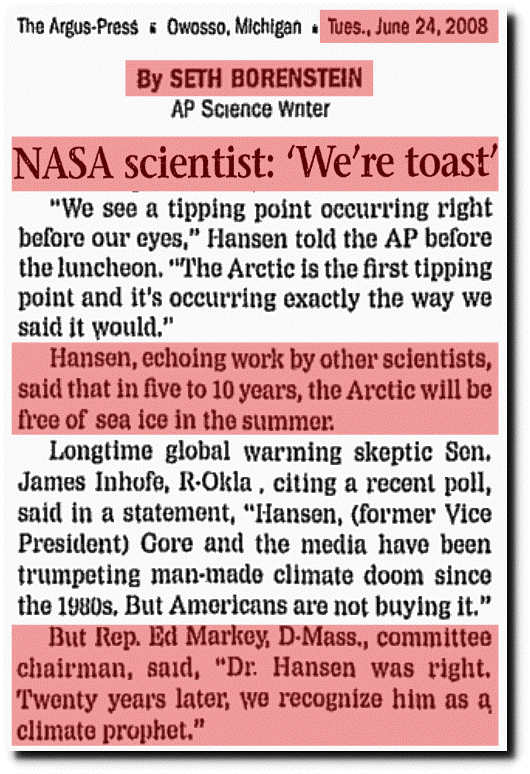 Fuente: Associated Press, junio 24, 2008
2008: Al Gore warns of ice-free Arctic by 2013
But… it's still there:
Fuente: WattsUpWithThat.com, December 16, 2018
2009: Prince Charles says only 8 years to save the planet
Fuente: The Independent, julio 9, 2009
2009: UK prime minister says 50 days to 'save the planet from catastrophe'
Fuente: The Independent: octubre 20, 2009
2009: Arctic ice-free by 2014
Fuente: USA Today, December 14, 2009
2013: Arctic ice-free by 2015
Fuente: El guardián, julio 24, 2013
The paper: https://www.nature.com/articles/s41467-017-02550-9 (open access)
Gas hydrate dissociation off Svalbard induced by isostatic rebound rather than global warming
Abstract
Methane seepage from the upper continental slopes of Western Svalbard has previously been attributed to gas hydrate dissociation induced by anthropogenic warming of ambient bottom waters. Here we show that sediment cores drilled off Prins Karls Foreland contain freshwater from dissociating hydrates. sin embargo, our modeling indicates that the observed pore water freshening began around 8 ka BP when the rate of isostatic uplift outpaced eustatic sea-level rise. The resultant local shallowing and lowering of hydrostatic pressure forced gas hydrate dissociation and dissolved chloride depletions consistent with our geochemical analysis. Hence, we propose that hydrate dissociation was triggered by postglacial isostatic rebound rather than anthropogenic warming. además, se muestra que los flujos de metano de los hidratos de disociación eran considerablemente más pequeñas que las actuales tasas de filtración de metano que implican que los hidratos de gas no eran una fuente importante de metano en los océanos, sino más bien actuó como un sello dinámico, la regulación de la liberación de metano a partir de depósitos geológicos profundos.
2013: Arctic ice-free by 2016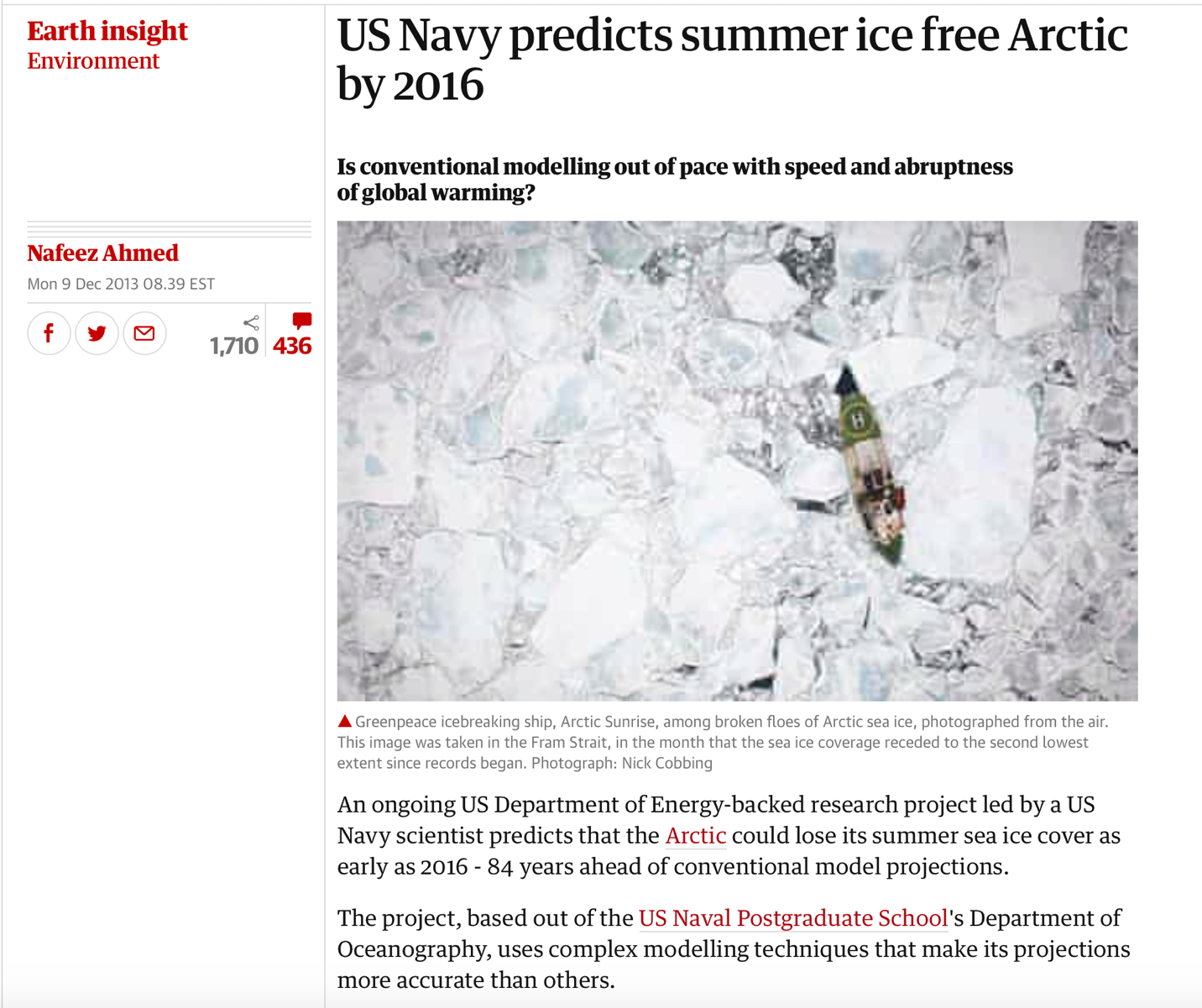 Fuente: El guardián, December 9, 2013
2014: Solamente 500 días antes de 'caos climático'
Pero…
Fuente: https://
cei.org/blog/wrong-again-50-years-failed-eco-pocalyptic-predictions
Hits: 24